AVG File Server Edition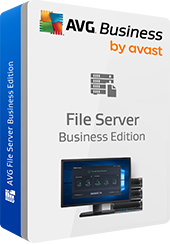 AVG File Server Edition Antivirus and antispyware protection for any file server regardless of workloads. Block viruses and spyware before they spread in your network.
Highlights:

Easy to use and manage
Protection against viruses, spyware and adware
Remote administration included
Free support and service around the clock and across the globe
Fully compatible with all major MS Windows servers
Price for AVG File Server Edition:



Renewal of License*:
License duration: 2 years license includes virus database and program updates. Registered customers also receive email support and a discounted renewal price at the end of the license period.




VB100% award in Virus Bulletin tests.

100% detection rate of AVG Anti-Virus System is continuously certified by independent ICSA laboratories.

Checkmark is a system which tests and certifies information security products, which certifies information security products to real-world standards.

TUV Monitored Virus Protection certification

HKSAR Government Info Sec web site recommendment - AVG Anti-Virus System.




AVG family of security software products is published by AVG Technologies.